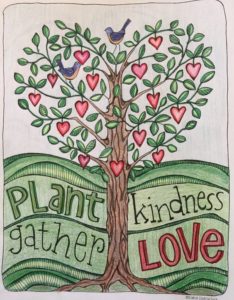 Crafts therapy is an appreciated theme. We have several crafts activities and each week we choose someone. With us, creativity flows and participants' souls blossom in the most beautiful colors.
Many of us need that moment of peace and tranquility. It's fun and you're having a nice time. The thoughts come away for a while from everyday life, the everyday stress and the demands that exist.
A popular form is to make and color mandalas. There are shapes in varying designs with a basic theme. For example, a picture of a circle is filled with small details that can then be colored.
The day begins with a guided meditation and the participants are put in a mood, and we will focus on relaxation, happiness, and acceptance. A wonderful togetherness and we set the edge of gold for our participants.
Here you will see some of our fun activities:
Feathers for cleansing and ceremonies
Pillows to hug
Dreamcatcher for our dreams
Runes for fortune telling
Personal angels for happiness and desires
Creams
We explore meditation and other exercises, and through living our founding principles approach ordinary activities in a mindful way that gives space for presence, creativity and joy.
When a human becomes creative and is given the opportunity to create, the brain produces the hormone dopamine. It's a so-called "feel good hormone" that improves the mood and it's also a hormone that makes us calm. It's a way to meditate when you follow a certain pattern and a certain rhythm. Crafts has positive effects on our mental health.
A full day workshop. Time: 10.00 am – 1:00 pm (10-13)
The price is 30 Eur and includes coffee/tea & fruit
Please contact for upcoming workshops!
Address: Benidorm, Altea, Albir, La Nucia, Polop in Spain   Phone: +34 642 491 769